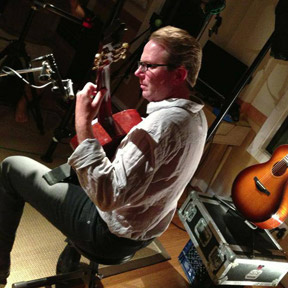 Known as a "poet of the guitar," Brian Gore's emotive, expressive style combines influences from folk, jazz and classical music. A unique voice is a rare and special thing in the world of solo guitar. To possess this requires luck, struggle and tenacity. Like wine, even for the most ingenious – a unique voice requires decades of fermentation to achieve perfection. Where this quality is concerned, it's safe to say there's not another vintage finer than Brian Gore; nor is there a player more unique and deserving.
To be sure, Brian's technical prowess and pioneering work in use of multiple capos, slapping, tapping and percussion ranks him as a top technician in his field. But virtuosity, over-abundant in guitar, is more rarely called upon for the kind of true artistry found in Brian's music. His approach to guitar is in the service of song over showmanship, and he connects emotively to his performances in a pure, yet evocative way.
After showing an intuitive knack for music at an early age, Brian slowly developed a one of a kind craft for guitar that allows him to connect with a wide range of sensibility through sound. A creative process that involves using poetry and writing in tandem with instrumentality allows him to produce compositions with haunting, memorable melodies. His songs tell a story with, or without words, transporting the listener into his unique emotional landscape.
If there's anyone who's "paid his dues" to his field and craft, it's Brian.  His effort to expose audiences to the best in world guitar though "International Guitar Night" has been painstaking, and involved considerable sacrifice. But in the process of over 20 tours he's matured artistically, by co-writing material and performing with the best players on the planet. And in the process, he's achieved the kind of legendary status in his own right no other player can claim.
"A musical romantic, who draws inspiration from literature and philosophy, he employs his virtuosity in the service of the heart. He is a self-taught guitarist who's developed "one of the most unique new acoustic guitar styles on the scene today" (News and Review). He has "emerged in the past decade as a leading figure in the new acoustic music movement pioneered by the late Michael Hedges."

Contra Costa Times
"For all the exhaustive work that Brian Gore puts into bringing contemporary guitar music to the masses, his name is unjustly unknown to them."
Alan Fark, Minor 7th Magazine